We manufacture model boats exactly to vision and wishes of our customers, not only for business clients, but also for individuals. With over 30 years of experience in the field of wood-working and model building regarding all types of ships, we can offer you high-quality and custom made models, either as a single piece or in small-scale or large-scale productions. We manufacture models of all types of ships and in any desired length, between 40 and 600 cm.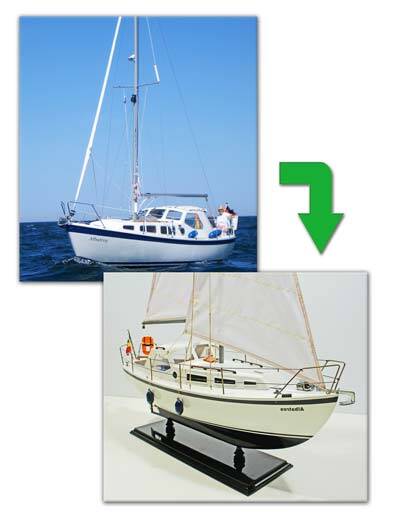 How much does a custom-made model cost? The price always depends on the type of the ship, as well as the size of the model and its circulation range. With small- or large-scale productions we can offer you a lower price per model, compared to a single piece production. Just send us a few images of your ship or boat, together with information about the desired model length and quantity and we will make you an individual, non-binding offer.
Which documents are important? Usually we can work with pictures, plans, drawings and 3D or CAD-data. What we do need is a picture of all the sides of the ship you want made into a model, so that we won't leave out any of the details.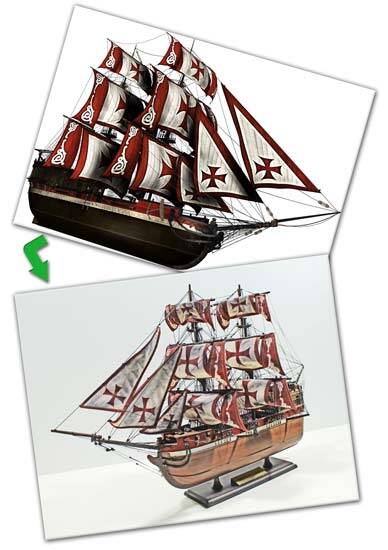 What is the delivery time? The time of delivery depends on the complexity of the model, the circulation range, as well as the workload of our factory. Usually we deliver your order within 2-3 months. We love to give you an estimated time of delivery upon request.
Can the manufacturing of the model be tracked? During the entire manufacturing process you will get images of the current status of production, so that you are involved in all of the production phases. This way you have the chance to communicate requests for modification or additional information during the manufacturing.
Which materials are being used? We are manufacturing all hulls of our model ships using hull construction and real wood. In addition to that, depending on the model of the ship, we offer a number of different materials, such as brass, copper, high-quality steel, leather or fabric. For questions and further information about your custom-made model ship, please feel free to contact us.
If you have got any questions, do not hesitate to contact us here